GDP Win: Pocket Laptop. Yes! You heard it right! The GPD Win is a pocket-sized device that can run Windows 10 OS.
First there was the desktop, then laptops, and now pocket laptop; computers keep getting smaller everyday.
A laptop that fits in my pocket sounds very intriguing!
Let's get into the details.
Most laptop models run on either Mac OS or Windows OS. These companies have been putting a great effort to bring the best and most efficient laptop/tablet devices to their users. In the process, Apple has come up with Apple iPad Pro which has alot of new exciting new features and can also be used as laptop. On the other end, Microsoft has the Slate & Surface Pro and their successors that can be utilized as both Tablet and PCs. But none of them can fit into your pockets right! Not if your pocket is large enough to hold a Tablet!
A Chinese based company specializing in designing, developing and manufacturing of Game consoles, Shenzhen GPD Technologies Pvt Co,.Ltd, along with a team of four, are developing the GPD Win Pocket PC.
With the GDP Win you can play any PC games you can play with Windows 10 system, you can even use VMware Workstion to install Windows 98 or Windows XP if you wish to play retro game
[adinserter block="11″]
GPD Win Specifications:
The GPD Win PC/Console comes with a Touch panel that supports multi-touch and a Joystick. Its has Intel Atom X5 Z8500 Quad Core processor with 1.44 GHz Base Frequency and 2.24 GHz Burst Frequency. With L1 Cache 32KB*2 and L2 Cache 2MB, the device performance should be good. The GPD Win runs on a 64-bit instruction set.
Coming to the display specs, the GPD Win has a 5.5 inch Corning Gorilla Display with a resolution of 1280*720 at ratio 16:9. The PPI density of the GDP Win is 227 ppi, which is equal to most of the smartphones.
With a 4GB LPDDR3 RAM and an internal storage of 64 GB, the storage capacity of GPD Win is not a major issue at all. In case, if you want more storage, you can increase using the memory slot provided for up to 128 GB.
Though the developers initially considered adding a USB Type-C slot, due to large amounts of requests from the users, it has been cancelled and replaced with USB Type-A slot. However, an HDMI port is given to connect to a Monitor or TV set for a larger screen view.
The GPD Win also has a fully functional Qwerty Keyboard and a 3.5mm headset jack. With several features and big screen, the battery usage could be higher. However, a 6000mah battery should be more than enough for a day's usage.
[wpsm_comparison_table id="1″ class=""]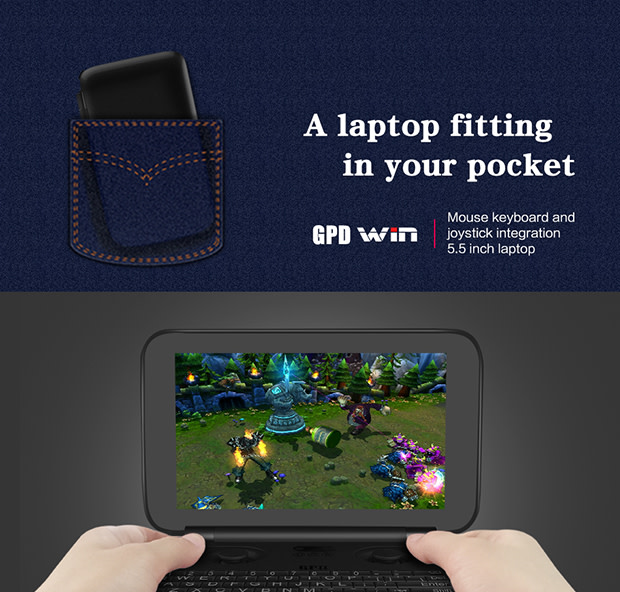 GPD Win Features:
5.5 inch PC/Console
Runs on Windows 10 Home
Has a Touch panel that can be used as Mouse and has a 3D Joystick as well.
64 GB Internal memory & Extendable up to 128 GB
Has a fully functional Qwerty Keyboard
1 USB port, 1 HDMI Port and a 3.5mm Headset Jack
Supports 802.11 b/g/n WLAN and 4.0 BLE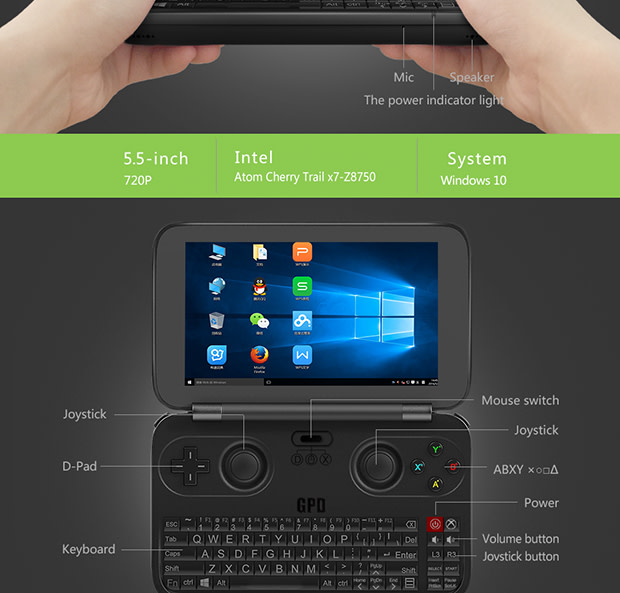 The GPD Win PC/Console is expected to be released in Mid-October 2016. We gladly send our wishes to the team.
With lots and lots of stuff integrated into this one small device, I can't wait to get the device for myself. The project is still on IndigoGo and has been funded close to 200%.
I backed the project with what I could and if you want to back the project, please visit IndigoGo and support the team. Also, get a massive $200 off of the GPD Win when released, with a funding of $299 or more.
The review is totally based on an overview of the Device. A full and detailed review will be provide once the GPD Win is released.